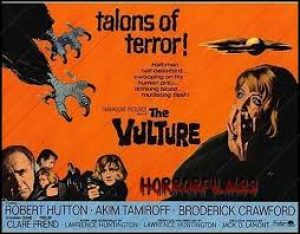 Curses! Prophecies! Seamen!
When a guy who was already mad gets buried alive with a vicious bird, his mood doesn't improve. Francis Real, sailor and man about town, ends up in an ornithological burial ground and before you can say 'Pet Sematary' comes back kind of messed up and bent on revenge.
When a scientist (huzzah) finds a dead sheep in a bird's nest (You heard me.), he comes up with a theory. Hint: It does NOT involve sheep and birds in flagrante aardvarkus. (Thanks, Joe Bob.)
Anyway, there's a killer vulture and graves and science and junk. You should watch.
Join the members of the #BMovieManiacs and watch a vulture and a guy try to work it out.
Here's the link. The Vulture   Hit play at 11pm eastern tonight, January 20, 2017, and tweet along with our merry band. You'll be glad you did. Well, we can't guarantee that so it's no use suing.