While drilling in the mountains a scientist (Peter Cushing) and his banker (?) (Doug McClure) discover an underground world full of treasure and wonder and cute fluffy puppies and happiness.  The end.  Not really.  Actually, they come across a race of reptile-birds with ESP and before you can say Uri Geller, they're prisoners.  After that it's one fun-filled man vs. reptile-bird fight after another…underground!  Join the B Movie Maniacs Friday, September 5 at 11pm EDT for Edgar Rice Burroughs' and Amicus Productions' vision of cave life set in the Victorian era.  Dinosaurs!  Caves!  Weird flying lizards!  Scantily clad Caroline Munro!
Just click the link below at 11pm and tweet along with us using the hashtag #BMovieManiacs
Come on.  It's Friday.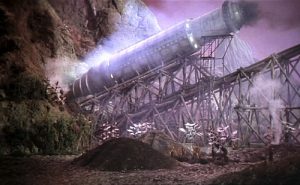 Nice drill, Dr. Freud.
http://www.youtube.com/watch?v=-xlMqtFsQi0