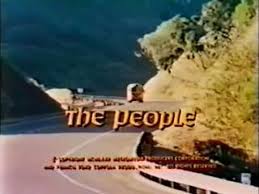 Who else hears the theme from ROSEMARY'S BABY here?
A modern young teacher (Kim Darby) leaves the big city for the seclusion and boredom of the country.  There, she tries to teach the locals stuff they don't care about.  This makes her very popular with The People.  The People, an Amish-ish clan with disdain for happiness and pleasure and laughing and hula hoops (well, probably), don't take too kindly to her new-fangled smiling and all that.  After asking why they hate fun, Darby tries to figure out who peed in The People's punch bowl.  I'll tell you the secret. THE PEOPLE: it's Soylent Gr…  Maybe not.  Anyway, I'm not telling so you'll have to watch this glorious made-for-TV classic which also stars William Shatner and Dan O'Herlihy and Diane Varsi and WILLIAM SHATNER!!!!!
Join the #BMovieManiacs on Twitter and use our hashtag to tweet along with the gang of gruff, but lovable miscreants we call our Twitter family.
Friday, May 29 11pm eastern
Here's the link!!  https://youtu.be/UyaaQdaQID4
THE PEOPLE like me!!
https://youtu.be/pBWcRqPesws

No pangolins were harmed in this post.