Hiya, folks!
It's nearly Halloween and Turner Classic Movies is showing a gang of fabulous films all weekend. As much as we'd love to join in the #TCMParty and watch all the Universal horrors tonight, we don't want to leave our loyal, non-cable subscribers in the lurch. We've decided, because we are so wise, to schedule our usual Friday night tweetalong in between classic monster movies on TCM. Aren't we the coolest? Don't answer that.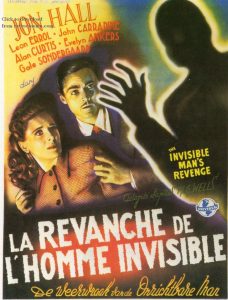 Is it me or is this guy visible?
Anyway, tonight, our film, THE INVISIBLE MAN'S REVENGE, will start at 7:55pm pacific or 10:55pm eastern. That extra five minutes means we won't interfere with TCM's features and #BMovieManiacs who want to enjoy our loveliness and that of the #TCMParty crowd can do so without missing a beat.
Ye gods, we're brilliant!
Here's the link to THE INVISIBLE MAN'S REVENGE. #BMovieManiacs rules! It's also a Universal horror and it has an invisible guy and John Carradine and Gale Sondergaard and large bats and a caterpillar as big as a coffeemaker (one of those big Bunn coffeemakers, not the Keurig things). All right, it doesn't have a giant caterpillar, but if you look closely, you might see a bat. You never know.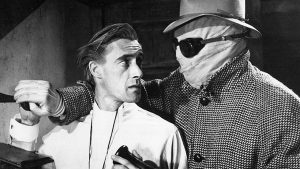 "Not here! Can't you wait for them to turn off the cameras?"
"Do you see a bat?"
"Shut up."