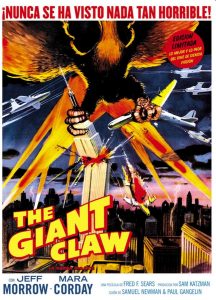 It's as big as a battleship!
No one believes Mitch MacAfee (Jeff Morrow) when he sees something eat a plane in midair.  After others witness the same phenomenon, they stop testing Mitch for crazy and ask him to help subdue the giant creature chowing down the Air Force.  Meanwhile, people die, the military sets its sights on the sky creature, and SCIENCE HAPPENS!  Will the entire earth fall prey to the wrath of the great flying alien?  Will we get to see the beast menacing the free world?  Will people keep saying it's 'as big as a battleship'?   Anyway, watch with the BMovieManiacs tonight at 11pm eastern as we live-tweet this masterpiece of special effects artistry.  *chuckles softly*
It just so happens that I reviewed this fabulous film on my site if you'd care to read it.  https://prowlerneedsajump.wordpress.com/2014/08/17/the-giant-claw-1957/
Anyway, here's the link for THE GIANT CLAW.
https://youtu.be/fOg2yH4zQAY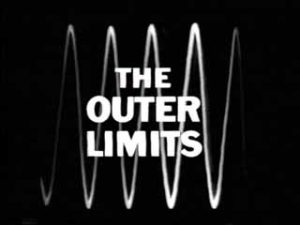 After the first feature, we're showing an episode of the spectacularly cool science fiction series The Outer Limits entitled Zzzzz!
It involves bees!  Here's the link.
https://youtu.be/BseWbhLeKxg
To play along at home: Find us at on Twitter and use the #BMovieManiacs at 11pm.  You can also find us @b_moviemaniacs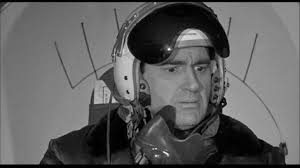 Are those ants?  Sorry, wrong movie.