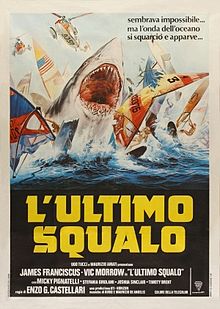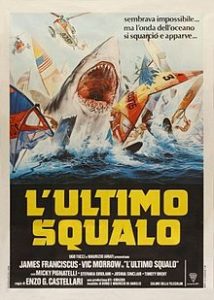 Filmed in Savannah, Georgia and Malta (of course), The Last Shark has an infamous reputation. Steven Spielberg and Universal Studios were so miffed about it, they pulled it from distribution. Apparently, they thought it looked familiar.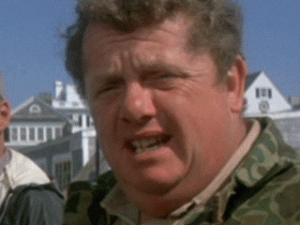 "A lawsuit?"
Anyway, Vic Morrow plays a grizzled sea captain who—wait a minute! James Franciscus costars as a handsome guy and there's a shark killing guys and junk. Since this is totally NOT an Italian movie or anything, there are lots of Cokes and American flags and WINDSURFING!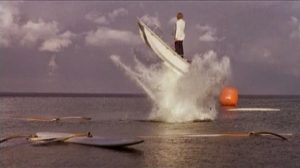 This guy has good balance.
The director, Enzo G. Castellari, also directed Johnny Hamlet, a Shakespearean western I MUST see, along with Escape From the Bronx, which John Carpenter might not like despite the presence of Henry Silva as a psycho, and a few other Bronx and sharkcentric films.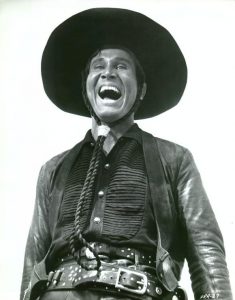 Henry Silva is not in this film, but isn't this a cool picture?
The Last Shark is sometimes referred to as The Last Jaws, Jaws Returns, Jaws 81: This Time He Drives a Cab, and Where's My Paycheck, Enzo, the Alimony's Due.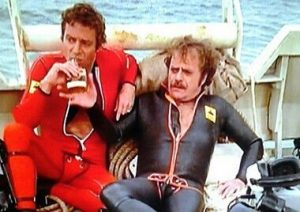 Franciscus and Morrow get into character.
Whatever you call it, we're showing it Friday night, December 8, 2017 at 11pm eastern. Join us on Twitter and use the hashtag #BMovieManiacs to tell us about your scars.
Here's the link. Close the beaches?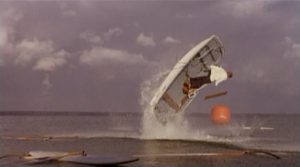 Later that day…